Zero-Profile Takahashi FSQ106 to SBIG Camera mounting with digital focuser and filter wheel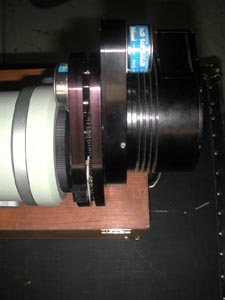 click on image to enlarge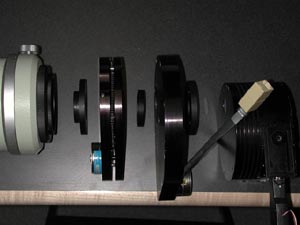 click on image to enlarge
click on image to enlarge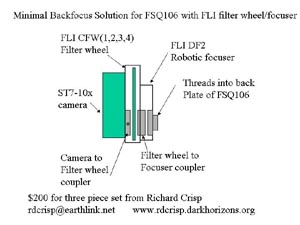 click on image to enlarge
The Takahashi FSQ106 is a wonderful imaging scope but suffers from severe back-focus limitations. For the best CCD images, it is very helpful to have a digital focuser and the FLI DF2 is the thinnest one for which I aware that is FocusMax compatible.
When you combine the DF2 and a FLI CFWx filter wheel (x=1, 2,3,4), you get a very thin arrangement that consumes minimal backfocus.
In order to accomplish this mating I designed and fabricated a three part adaptor set as shown in the pictures above. Everything is machined out of aluminum and is painted flat-black to reduce internal reflections. Since anodizing is reflective in IR, flat black paint actually works better.
I can provide such "FSQ-FLI-SBIG" sets for a fair price. If interested contact me at:
As a final comment, for using this with an FLI camera, the SBIG camera adaptor is not needed. I can supply the two piece (all FLI) or three piece (FLI CFW/DF2 to SBIG) sets.
I also have the plain SBIG camera to FLI Filter wheel adaptor: