Exclusive: Perkin Elmer Lambda 900 Precision Spectrophotometer Scans of AstroDon LRGB "E" filters
I haven't seen any scans of AstroDon "E" series filters on the web. Thomas Baader of Baader Planetarium sent me these scans August 20, 2007 in response to a question I had asked him about NIR leakage reports made Don Goldman involving Baader's Halpha Narrowband filter.
As I understand Mr Baader only had the "E" series LRGB filters from AstroDon available for measurement at this time, but he did scan these filters and provided me these scans including one of his 7nm Halpha filter for reference. I asked Mr. Baader how these scans were made and he replied they were measured using a Perkin Elmer Lambda 900 Precision Spectrophotometer with a 90 degree incidence angle. By contrast Don Goldman said he measured the results he reports using a flashlight shone off the ceiling in a dimly lit office. Some of Goldman's comments are reproduced below in accordance with 17USC section 107 "Fair Use"
Astrodon's results:
quoting from Astrodon website:
"To test NIR leakage, I used an Apogee Alta U16M CCD with a Kodak KAF16803 large format CCD operated at -20C in my dimly lit office with a standard flashlight directed at the ceiling. The camera was pointed up. A 2" nose piece was secured into the camera holding a standard 48 mm Astrodon Schuler photometric (Bessell, Johnson-Cousins) IR filter made with 3 mm thick piece of Schott RG9 glass and 1 mm of KG4 glass. This filter is used to compare the IR leakage of the two H-a filters, because it blocks the filter's bandpass and all shorter wavelengths. It's scan (Is) is shown below:"
Information regarding the Perkin Elmer Lambda 900 Precision Spectrophotometer are here
| | |
| --- | --- |
| Perkin-Elmer Lambda 900 UV-VIS-NIR spectrophotometer | spectral characterization on small samples and large devices from 200-3200 nm |
and here is a link for one for sale (reconditioned) for the price of $24,500
So in the spirit of seeking the truth no matter where it carries us, here are the scans I was given.
It seems curious that Mr. Goldman raised issues about NIR leakage in Baader's 7nm Halpha filter when his LRGB filters clearly exhibit stronger NIR leakage than the Baader Halpha. Note that the Red AstroDon filter appears to begin to show leakage as the scan stopped at 1200nm.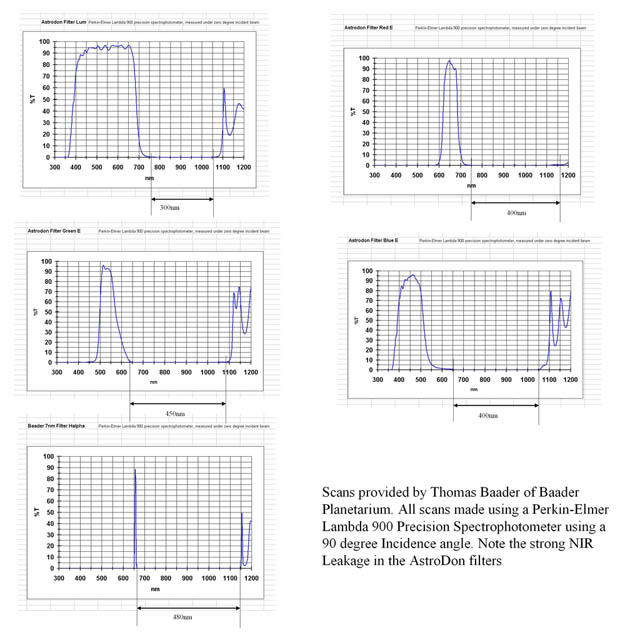 Click to enlarge (measured with Perkin Elmer Lambda 900 Precision Spectrophotometer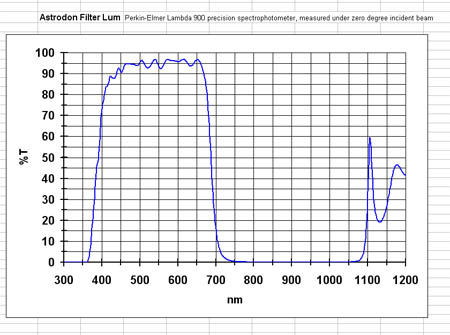 click to enlarge AstroDon "L" scan (Perkin Elmer Lambda 900 Precision Spectrophotometer)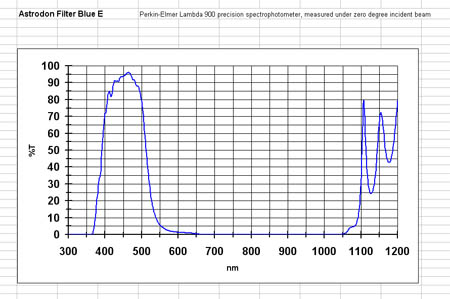 click to enlarge AstroDon "B" scan (Perkin Elmer Lambda 900 Precision Spectrophotometer)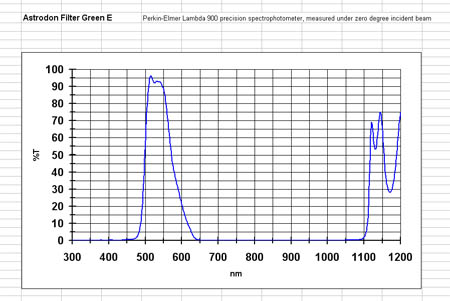 click to enlarge AstroDon "G" scan (Perkin Elmer Lambda 900 Precision Spectrophotometer)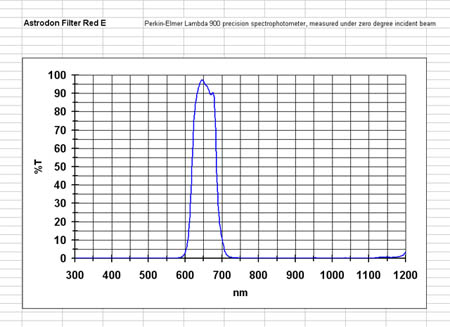 click to enlarge AstroDon "R" scan (Perkin Elmer Lambda 900 Precision Spectrophotometer)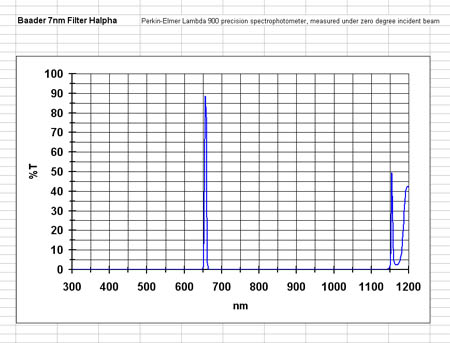 click to enlarge Baader 7nm Halpha scan (Perkin Elmer Lambda 900 Precision Spectrophotometer)