M27 Dumbbell Nebula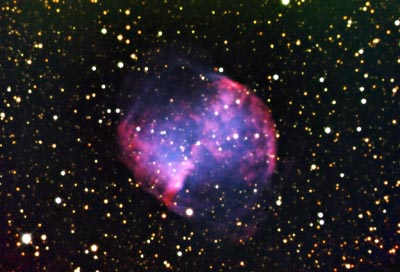 "hard processing"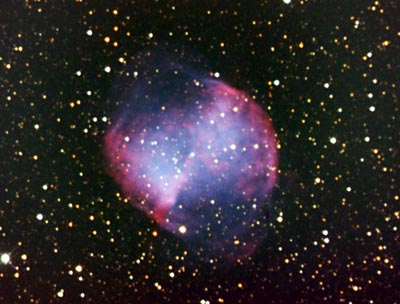 "soft processing"
Click on image to enlarge, click here for higest resolution
Taken on July 11, 2003 from my backyard in Castro Valley, Ca.
Takahashi Mewlon 210 imaging scope (2415mm focal length, f/11)
SBIG ST10XME imaging camera @-22C
Astro-Physics AP80mm guide scope (900mm focal length)
SBIG ST7E guide camera @-20C
Finger Lakes Instrumentation CFW-1
Optec IR-Blocking LRGB filters
Optec TCF-S robotic focuser
Maxim DL 3.10 used for image capture, manipulation. Sigma Beta 10 used for image combining. Photoshop 7.0 used for final touchup and sizing.
LRGB combine:
Luminance: Six exposures of 10 minutes through Luminance filter
Red: Five exposures of 10 minutes through Red filter (binned 2x2)
Green: Five exposures of 10 minutes through Green filter (binned 2x2)
Blue: Five exposures of 10 minutes through Blue filter (binned 2x2)
3.5 hours total exposure