M45 "The Pleiades" Reflection Nebula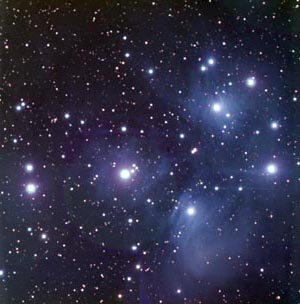 Mild Processing
Click on image to enlarge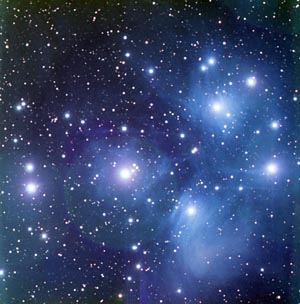 "Pushed a bit"
Click on image to enlarge
To see the David Malin image from APOD, click here.
Taken on October 1, 2002 from backyard in Castro Valley, Ca.
18 exposures of 100 seconds through Optec IR-Blocking LRGB filters
LRGB combined
AP155EDF f/7 imaging scope
FLI IMG1024S Dream Machine Imaging Camera @ -25C
TV101 guide scope
ST7E NABG guide camera
AP1200GTO mount
Image capture via Maxim DL 3.0.7, Flats, Darks and Stacking done with Ray Gralak's SIGMA beta 10, Deblooming done with Ron Wodaksi's Debloomer demo version. Final assembly and tweaking done with Photoshop 7.0
To see what the Wodaski Debloomer plugin did for this image, click here.