Pentax 6x7 Camera Lens adaptor to CFW1/DF2 and IMG or STx Camera
An adaptor was designed and constructed to permit a Medium Format Pentax Takumar 150mm f/2.8 camera lens to be interfaced to a Finger Lakes CFW1 filter wheel (5 x 50mm filters) and a Finger Lakes DF2 Digital Focuser. The system is designed to permit either an SBIG STx or a Finger Lakes IMG series CCD camera to be used for the imager.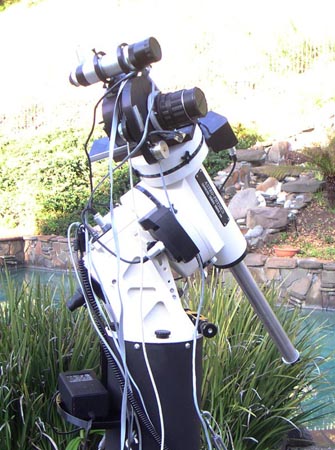 Click to enlarge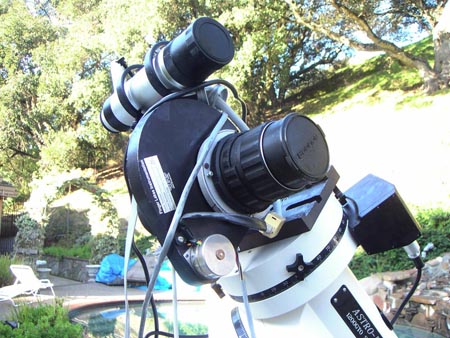 Click to enlarge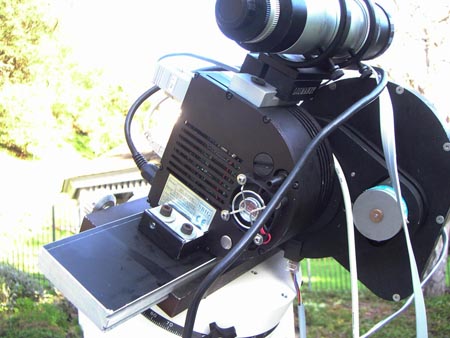 Click to enlarge
First Astro Images (Aug 4, 2004). These were the first astronomical images taken with the new system. First examinations of them shows elongated stars in the lower right corner of the images. Initial thoughts are the elongations are due to tilt of the camera lens away from the optical axis. All images below taken at f/4. Next steps will be to provide a "tilting adjustment" for the lens.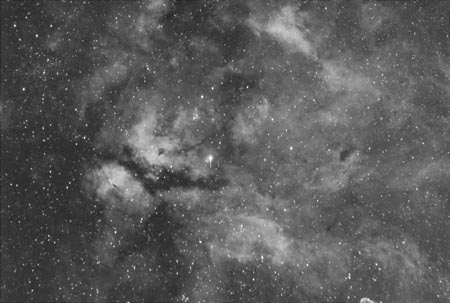 IC1318 (Halpha)
Click image to enlarge, click here for maximum resolution
One exposure of 10 minutes through Hydrogen Alpha filter (f/4)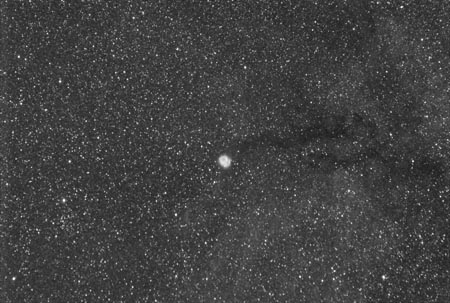 Cocoon Nebula with dark tail
Click image to enlarge, click here for maximum resolution
One exposure of 10 minutes through Hydrogen Alpha filter (f/4)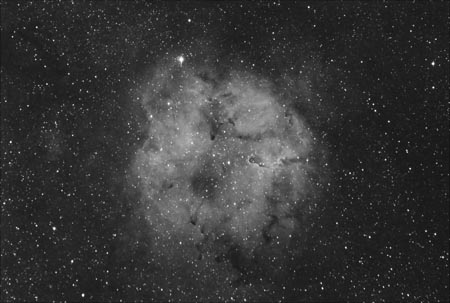 IC1396
Click image to enlarge, click here for maximum resolution
One exposure of 10 minutes through Hydrogen Alpha filter (f/4)
Veil Nebula
Click image to enlarge, click here for maximum resolution
One exposure of 10 minutes through Hydrogen Alpha filter (f/4)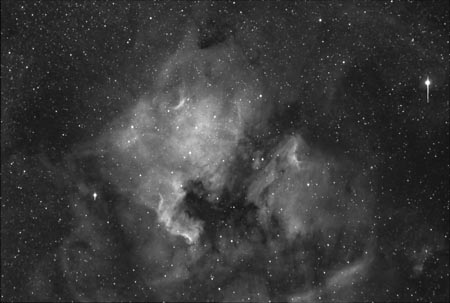 NGC7000 + IC5070
Click image to enlarge, click here for maximum resolution
Two exposures of 10 minutes through Hydrogen Alpha filter (f/4)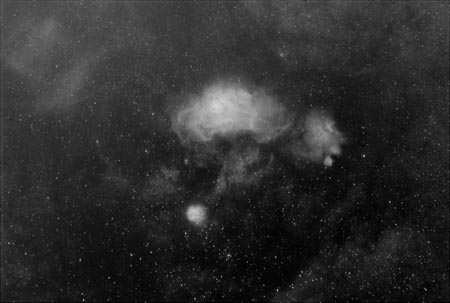 M8 / M20 region
Click image to enlarge, click here for maximum resolution
One exposure of 20 minutes through Hydrogen Alpha filter (f/4)